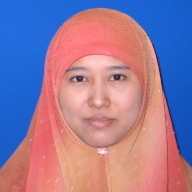 Research Area:
Synthesis of Renewable Polymer、Renewable Energy (DSSC and Conductive Polymer)、Acoustic and Vibration of polymer foam and composites、Photostability and Photodegradation of Polymer
Research Experience:
Anika Zafiah Mohd Rus received her BSc (Hons) in Mechanical Engineering (Manufacturing) in 1998 and PhD in March 2007 from University of Warwick, United Kingdom in Polymer Chemistry and Engineering. At the present she's an Associate Professor in the Department of Materials and Design Engineering, Faculty of Mechanical and Manufacturing Engineering, University Tun Hussein Onn Malaysia (UTHM) and Head of Center of Excellent at Advanced Manufacturing and Materials Center (AMMC). Her current research interests include synthesis and characterization of biopolymer composites from renewable materials (biochemistry and biotechnology), acoustic design based on lightweight construction materials and renewable solar energy from natural resources. She has received many awards and recognition such as 2nd Roundup for project entitled "Recycled Plastics and Agrowaste Composite" (Re-PAC) for Industrial Structure Application from Universiti Teknologi Petronas with UTP-URIF Grant RM30,000.00 on 2017, "Recyclate Photoresists Plastic (Re-PLAS)", Special Award- ITEX 2016 (BEST INVENTION AWARD-UNIVERSITIES AND EDUCATIONAL INSTITUTIONS), in 12-14 May 2016, 27th International Invention, Innovation & Technology Exhibition (ITEX 2016) and ITEX Gold Award, May 2016, "Woman Inventor of the Year" for product design of Eco-Smart Monomer Converter (Eco-SMOC), Gold Award for Catalytic Converter (C-C)n and recipients of "Sir Isaac Newton Scientific Awards of Excellence for 2012" by The World Forum Symposiums of Science, St Catherine's College, Oxford, England in 2012, "Foreign Special Awards" for Mulch Films from Renewable Resources, Double Gold (Natural Earth) and Gold Award for Biodegradable Renewable Polymer in 2011.